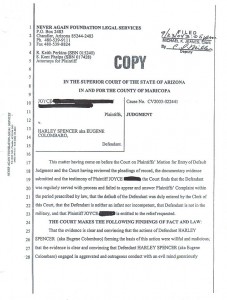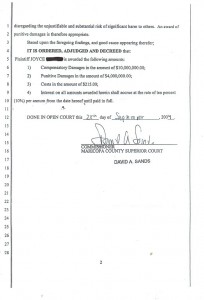 *Please note: In an effort to represent these documents as precisely as possible, they were reproduced as written. Therefore, some grammar mistakes were deliberately included.
---
Never Again Foundation Legal Services
P.O. Box 2483
Chandler, Arizona 85244-2483
Ph. 480-539-9111
Fax 480-539-8824
R. Keith Perkins (SBN 015240)
S. Kent Phelps (SBN 017428)
Attorneys for Plaintiff
IN THE SUPERIOR COURT OF THE STATE OF ARIZONA
IN AND FOR THE COUNTY OF MARICOPA
JOYCE CLARK, Plaintiff Cause No. CV2003-022441
JUDGMENT
HARLEY SPENCER aka
EUGENE COLOMBARO, Defendant |
__________________________________________
**PLEASE NOTE: IT WAS IMPORTANT FOR ME TO SHOW THAT SPENCER AKA. COLOMBARO WAS CONVICTED IN THE TWO COURTS OF JUDGEMENTS – CRIMINAL AND CIVIL. O.J.SIMPSON WAS ONLY CONVICTED IN ONE.
**PLEASE NOTE: ALTHOUGH I WAS AWARDED A LARGE AMOUNT OF MONEY IN CIVIL COURT FROM HARLEY SPENCER AKA. EUGENE COLOMBARO, NO MONEY – ZERO DOLLARS – WAS COLLECTED FROM HIM OR ANY OTHER ENTITY. OVER THE YEARS, THE MURDER OF MY CHILD COST ME OVER $375,000. I STOPPED COUNTING IN 2002.
This matter having come on before the Court on Plaintiffs' Motion for Entry of Default Judgment and the Court having reviewed the pleadings of record, the documentary evidence submitted and the testimony of Plaintiff JOYCE CLARK, the Court finds that the Defendant was regularly served with process and failed to appear and answer Plaintiffs' Complaint within the period prescribed by law, that the default of the Defendant was duly entered by the clerk of this Court, that the Defendant is neither an infant nor incompetent, that Defendant is not in military, and the Plaintiff JOYCE CLARK is entitled to the relief requested.
THE COURT MAKES THE FOLLOWING FINDINGS OF FACT AND LAW
That the evidence is clear and convincing that the actions of Defendant HARLEY SPENCER (aka Eugene Colombaro) forming the basis of this action were willful and malicious, that the evidence is clear and convincing that Defendant HARLEY SPENCER (aka Eugene Colombaro) engaged in aggravated and outrageous conduct with an evil mind consciously disregarding the unjustifiable and substantial risk of significant harm to others. An award of punitive damages is therefore appropriate.
Based upon the foregoing findings, and good cause appearing therefore;
IT IS ORDERED, ADJUDGED AND DECREED that:
Plaintiff JOYCE CLARK is awarded for the following amounts:
1) Compensatory Damages in the amount of $10,000,000.00
2) Punitive Damages in the amount of $4,000,000.00
3) Costs in the amount of $215.00
4) Interest on all amounts awarded herein shall accrue at the rate of ten percent (10%) per annum from the date hereof until paid in full.
DONE IN OPEN COURT this 20TH day of September, 2004
COMMISSIONER MARICOPA COUNTY SUPERIOR COURT
David A. Sands
One Response to "Civil Judgment"