First picture of Adam and his sister, Anne. Taken on the way home from the hospital. He was ten days old and was not expected to live.
He was diagnosed with Cornelia de Lange Syndrome.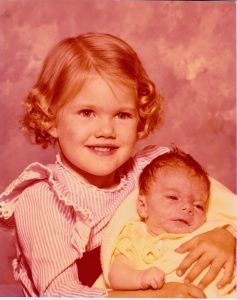 CORNELIA DE LANGE SYNDROME is a rare syndrome of multiple congenital anomalies characterized by a distinctive facial appearance, prenatal and postnatal growth deficiency, feeding difficulties, psychomotor delay, associated malformations that mainly involve the upper extremities, and various other medical issues.
WHAT HAPPENED?
My severely disabled son was born with Cornelia de Lange Syndrome (CdLS). When he died, I was accused of his murder.
WHY?
The early 1980's was a world that functioned on prejudice against being a woman. I was also raised in a pseudo Christian cult with a cult of misogyny. My husband abused me. When I placed my body between my husband and children when he began to abuse them and told him to leave, that made me a single mother and an outcast in my church and family. I had few resources and became an easy target.
My ex-husband and my child's sitter deliberately lied about what happened to Adam. There was a dissociation between what the medical examiner believed was normal and what was not about Adam's body upon autopsy. The medical examiner knew almost nothing about Cornelia de Lange Syndrome.
Charging me was an easy solution for a police department that conducted an incomplete investigation.
No one bothered to check out my history with my children. I had full physical and legal custody of both of them but after Adam died, my nine-year-old daughter was taken away and given to her father to raise. My fears became real when he gained access to abuse her also.
WHO ARE YOU?
I am Adam's forever Mommy – and more. I am a warrior for all things true. I am a woman who has experienced and lived through hellish experiences many times over. I have been fryed by the system of social workers, lawyers, judges, court ordered shrinks, been followed and tracked by police, news media, neighbors scowling at me through fences, churches, their pastors, and school officials who questioned my little girl without counsel. I refused then and I refuse today – to break. I refuse to succumb to fear, panic, migraines, or the terrors of PTSD that continue to awaken me, and the knowledge of how my children suffered. I am bruised and wounded but I'm in a constant state of healing. I view life through a prism of hope and change. I cry, pray, and find joy in living. Forgiveness to those who harmed me is a gift I give to myself and others who abused my trust in them.
HOW DID YOU CHANGE FROM BEING A VICTIM TO BEING A SURVIVOR?

I give that credit to God and Him alone. I have no strength without Him. I also needed to be strong for my daughter – to fight to win her back and be a warrior for justice. If I can be a survivor, then anyone can.
WOULD ADAM BE ALIVE TODAY?
I don't know. In 1977, the year Adam was born, very little was known about the life expectancy of children with Cornelia de Lange Syndrome. Many now are living well into adulthood. Adam's major health problems had been corrected with various treatments and surgeries. and he wasn't scheduled to have any more. Though his bones and joints were malformed, the issues with them were more a problem of function. Most of his ongoing health issues had to do with a decreased ability to fight off infections. He had a heart murmur but overall, his heart was strong.
STRICTLY FINANCIALLY SPEAKING HOW MUCH HAS BEEN ACCUSED OF MURDER COST YOU?
Approximately $375,000. I stopped counting in 2002.
WHERE CAN I FIND MORE ABOUT YOUR STORY?
From Miracle To Murder: Justice for Adam, is my true crime memoir. It is available on Amazon, Barnes & Noble (online), and Ebay.
*Commentary from the author is based on police reports, written depositions, court records, the grand jury transcript, trial transcripts, psychologist's written evaluations, eye witness accounts, journals, victim impact statements, different avenues of public media, Adam's autopsy, and haunting memories.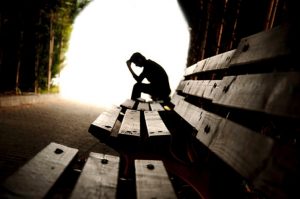 (courtesy of coastreporter)
**********
Was someone you loved murdered?
Does it seem no one understands how you feel?
How do you survive?
Do people tell you to get over it?
Share your story with someone who goes through what you do every day. Feel free to leave your e-mail address so I can contact you. Courteous, constructive comments are welcome. All comments will be monitored before publishing.
10 Responses to "CORNELIA DE LANGE SYNDROME"