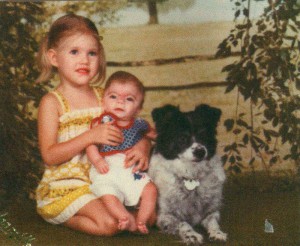 I like to make him laugh
And he can make me smile
And sometimes we just sit
And cuddle for awhile.
I'm teaching him some games
And how to get along
And someday soon he'll count and read
(or least pretend to)
And learn to sing a song.
If I feel like being nice
(which I am all the time)
I let him share my toys
'Cause even if they're for girls
They're just as fun for boys.
Sometimes I hug too hard
(cause I love him so much)
And my kisses make him cry
But I can't help myself
He's such a cute little guy.
I hope when we grow up
He'll be a friend like no other
But for now I think I like
Having Adam for my brother