From the June 9, 2003 edition of the Arizona Republic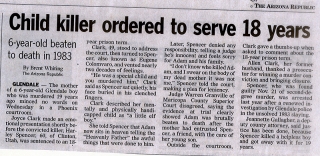 Child Killer ordered to serve 18 years
6-year-old beaten to death in 1983
by Brent Whiting
the Arizona Republic
Glendale – 
The mother of a 6-year-old Glendale boy who was murdered 19 years ago minced no words on Wednesday in a Phoenix courtroom.
            Joyce Clark made an emotional presentation shortly before the convicted killer, Harley Spencer, 60, of Clinton, Utah, was sentenced to an 18-year prison term.       Clark, 49, stood to address the court, then turned to Spencer, also known as Eugene Colomvaro, and vented nearly two decades of feelings.    "He was a special child and you murdered him," Clark said as Spencer sat quietly, his face buried in clenched fingers.  Clark described her mentally and physically handicapped child as "a little elf boy."  She told Spencer that Adam now sits in heaven telling the "Heavenly Father" the awful things that were done to him. 
            Later, Spencer denied any responsibility, telling a judge he's innocent and feels sorry for Adam and his family. "I don't know who killed Adam, and I swear on the body of my dead mother it was not me," Spencer told the court, making a pleas for leniency.
            Judge Warren Granville of Maricopa County Superior Court disagreed, saying the evidence at trial clearly showed Adam was brutally beaten to death after the mother had entrusted Spencer, a friend, with the care of her young son.
            Outside the courtroom, Clark gave a thumbs-up when asked to comment about the 18-year prison term.     Allen Clark, her former husband, thanked a prosecutor for winning a murder conviction and bringing closure.
            Spencer, who was found guilty Nov. 21 of second-degree murder, was arrested last year after a renewed investigation by Glendale Police in the unsolved 1983 slaying.
            Jeannette Gallagher, a deputy county attorney, said justice hs been done, because Spencer killed a helpless boy and got away with murder or 19 years.